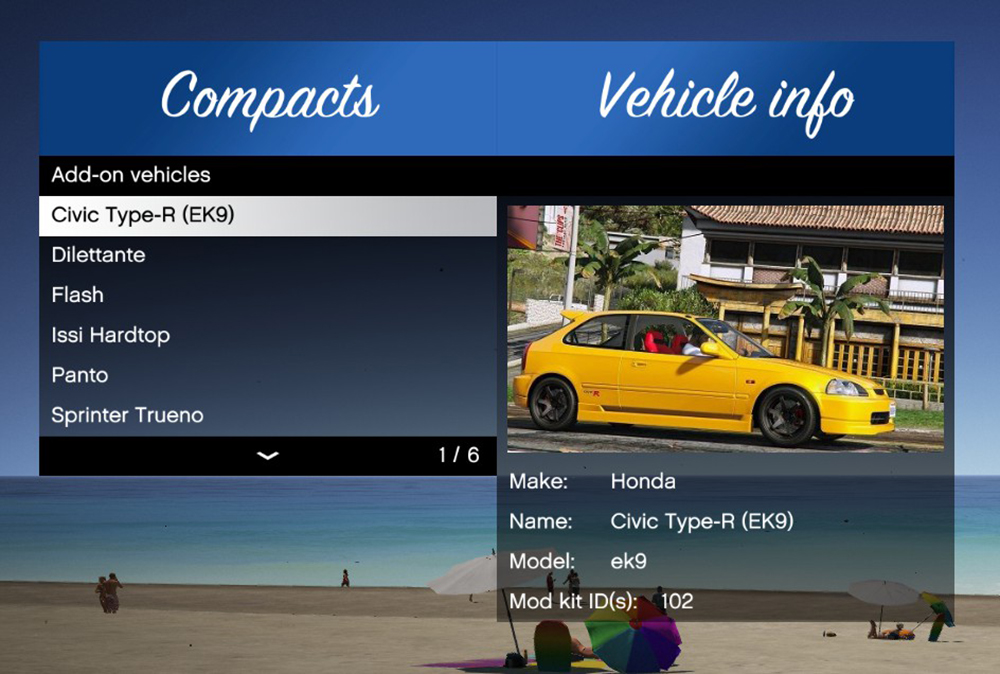 Add-On Vehicle Spawner v1.4.0
.

,
source : https://www.gta5-mods.com/scripts/add-on-vehicle-spawner
.
Add-on Spawner is a ScriptHookV script that automatically looks for add-on vehicles and puts them in a menu for you to spawn.
Features

Detect vehicles and vehicle information automatically


Search function
Various spawn options
Various sorting options
Custom thumbnails
Display vehicle model info
Search matches vehicles on Make, Name or Model Name.
Requirements
GTA V v1.0.877.1 or later
ScriptHookV
Installation
Drag and drop AddonSpawner.asi and the AddonSpawner folder to your GTA V game folder.
Usage
No configuration needed, just load it up, press the hotkey (F5) and spawn your add-on vehicle. They are separated by vehicle class. It only lists your add-on vehicles, so no base game/DLC vehicles. There are various options for sorting vanilla cars and add-ons, so check the settings.
Credits
Full credits to the ScriptHookVDotNet team on this one.
This wouldn't have been possible without Unknown Modder and drp4lyf!
Recommended
I made a compilation of IVPack (well, CP already did the heavy lifting) and Vanillaworks Extended. Get it here to improve previews for IVPack and Vanillaworks Extended!
Source
GitHub