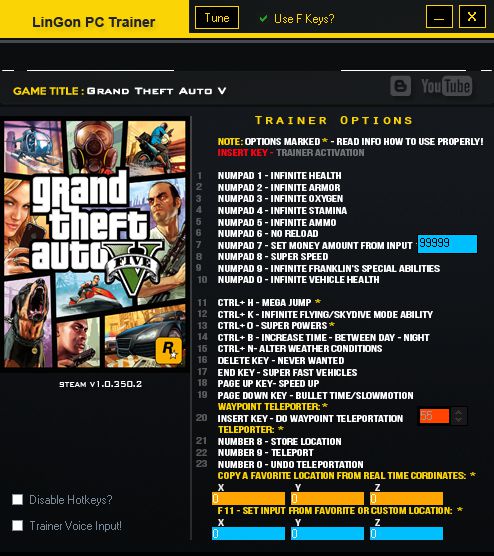 .
.
source :
https://www.gtainside.com/en/gta5/trainers/71750-grand-theft-auto-v-23-trainer-rev-6-lingon/
Supported versions: steam v1.0.350.1 & v1.0.350.2
###################################
HOME Key – Trainer Activation HotKey!
F1 – Infinite Health
– This keeps you alive and well.
F2 – Infinite Oxygen/H20
– This keeps your oxygen filled while under water.
F3 – Infinite Stamina
– Your stamina wont decrease.
F4 – Infinite Ammo
– Your ammo wont run out.
F5 – No Reload
– Removes the need to reload you guns.
F6 – Set Money Amount From Input
– Allows you to set a custom amount for cash/money.
Use the provided input box on the trainer front to set your desired amount.
Next press this hotkey F4 in game while playing, to view the updated amount , eenter the game menu.
F7 – Super Speed
– Allows you to run faster.
F8 – Never Wanted
– Your never wanted unless you go crazy with the cops.
If you do they might shoot back at you.
May or may not work all the time in all situation.
F9 – Infinite Franklins Special Abilities
– Franklins special abilities wont run out.
F9 – Infinite Wehicle Health
– Your wehicles are protected against most damage taken.
Note: As an alternate option in the trainer you may toggle between using "numpad keys" or using the "F keys" with the options listed above.
Page Down Key – Bullet Time/Slowmotion
Waypoint Teleporter:
Number 7 – Do Waypoint Teleportation
Teleporter:
Number 8 – Store Location
Number 9 – Teleport
Number 0 – Undo Teleportation
The trainer is not 100% finalized yet, but is still released to the public for now as is currently with the current updated changes.
Final trainer will be coming soon!
Supported versions: steam v1.0.335.2