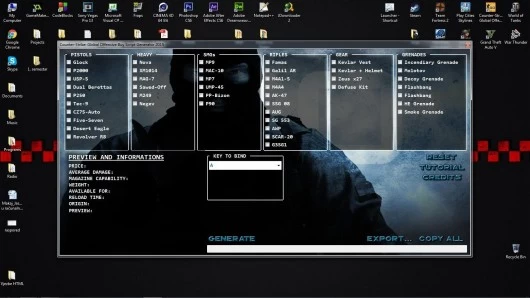 Buy Script Generator. Easy to use!
Buy Script Generator. Easy to use!
https://www.youtube.com/watch?v=hi67NkD3Qjo

Comment, like and subscribe! Thanks! by: Makky
Last Update: 19.12.2015.
Current Version: 1.1.3.
BUG: Might not work on Windows 10 and Windows 8.1 OS. Bug will be fixed as soon as possible.
************************************************

Instructions:
1. Choose weapons and equipment that you want to bind.
2. Choose a key from a drop menu. You can use Your own key if You know what You are doing.
3. Press Generate button.
4. Copy the code and paste it in-game in console. You can also export the ".cfg" file to your CS:GO folder. (example: "C:\Program Files(x86)\Steam\Steamapps\common\Cs:Go\csgo\cfg") and then execute the script in console using "exec" command. (example: "exec config.cfg"). You can add that line of code in your "autoexec.cfg" file. (If You don't have autoexec file, You can just create one.). CFG files can be open with notepad
Download File : https://gamebanana.com/dl/163320
.
.